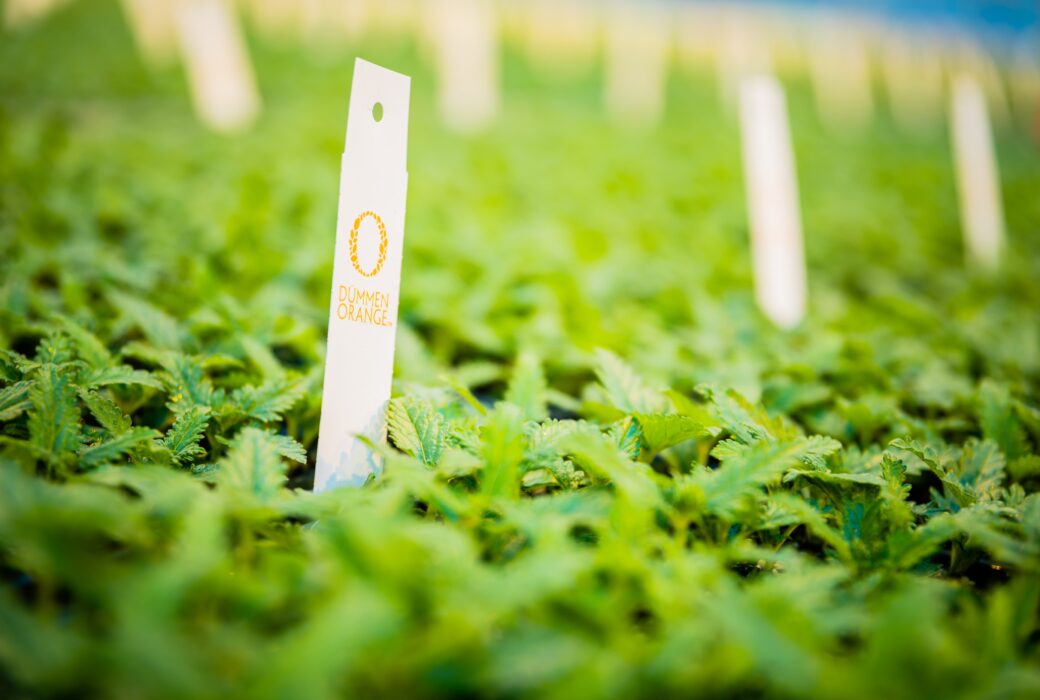 Dümmen Orange really needs no introduction. This leading propagator of plants and flowers has been active in the ornamental plant sector for over 100 years. On an annual basis, Green Products supplies millions of GreenPlugs to the Rheinberg (D) site. "Green Products provides reliable delivery, the quality is always consistent, and they are constantly sharing ideas with our growers", tells Heleen Sonneveld, operations manager.
Dümmen Orange primarily uses GreenPlugs to grow annual garden plants and potted plants. The mother plants are located on farms in Africa and southern Spain, from which the cuttings are rooted at Dümmen sites in Germany and the Netherlands. The company uses different types of GreenPlugs with diameters between 19 and 29 mm. "The cultivation process of our fastest crops takes 3 weeks and the slowest about 7 weeks," Sonneveld explains.
Close Communcation
Dümmen Orange then supplies the plants to some 1,500 growers throughout Europe, Africa, and the Middle East. "Cultivation success, of course, depends heavily on how stable the plugs are," Sonneveld says. "We choose Green Products because, in quantity and quality, they always deliver what they promise. In addition, Green Products' consultant and our grower work closely together."
Green Products regularly visits Dümmen Orange. "The technical expert then examines how the growing process is going," Sonneveld explains. "He consults with our grower to see if everything is as required. Suppose the rooting is not optimal; they think of a solution
together. For example, how can we make the plug more aerated? Should we adjust the composition? Or should we choose a different type of tray? They also conduct trials to test this."
Finger on the pulse
According to the Operations Manager, Green Products keeps "a constant finger on the pulse". Sonneveld: "We never find ourselves thinking, 'Hey, we haven't heard from them in a while.' They are very reliable with delivery as well as communication. The GreenPlugs are always delivered on time, and we are very satisfied with the quality. If there is a problem, they always find a solution. This communication is simply enjoyable. This is also reflected in the number of plugs we purchase, which over the years has only increased."
Why Greenplugs?
Very reliable delivery and plug quality
Close communication with our grower
Constantly keep a finger on the pulse
If something goes wrong, a solution always follows